Runbox Email Hosting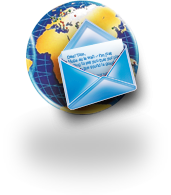 Flexible email services
Use Runbox Email Hosting to host email for your domain, and set up separate sub-accounts for your company, organization, or family. Each account comes with 10 GB storage space for email and 1 GB storage space for files. From your Email Administration control panel you can easily manage your sub-accounts and expand with additional accounts as the need arises.
Additionally you can create up to 20 email aliases (alternative addresses) like you@yourdomain.com on each Runbox account. You can even continue use your previous email address with Runbox, as Runbox supports customized "From" and "Reply-To" addresses when sending email.
You can also upgrade with additional domain names if you need more than the one that is included with every account.
Powerful features
All accounts include the powerful Runbox Mail Manager features, such as Runbox' premium virus scanner, intelligent spam filter, consolidation and forwarding of email, support for large messages up to 100 MB each, secure access via SSL encryption, a superior ad-free and fast webmail interface, access to your email via Web, POP3, IMAP, SMTP, WAP, and more.
See our
Feature List
for more features, or start your free 30-day trial right away.
Copyright © 1999-2014 Runbox Solutions AS