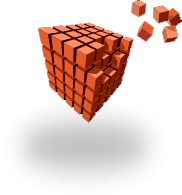 Powerful web hosting services
Runbox' state of the art domain and web hosting service includes 200 MB storage space and 4000 MB monthly bandwidth, which can be upgraded at any time.
The Runbox Web Hosting services are located in the US and in Europe, and run on quality hardware with built-in data redundancy (RAID) providing the power, versatility, and reliability required for professional web hosting.
All our servers run Linux, the most popular server operating system in the industry due to its scalability and track record as the most stable operating system on the market.
Please read on for more about Runbox Web Hosting, or start
your free 30-day trial right away.
cPanel control panel
Besides standard features such as FTP access, Frontpage extensions, and generous domain and storage quotas, Runbox Web Hosting includes the leading web site configuration and management software application cPanel. The cPanel control panel provides superior web site management capabilities and includes database hosting, programming libraries, and the Fantastico application hosting suite (see screenshot).
If you would like help setting up your website or to create a custom design for your web pages, please review our Web Design services.
Web Hosting Features
Standard Web Hosting is included in the Runbox Medium and Max account plans. Extended Web Hosting is offered as a add-on product – see price list for more details!
Capacity
Standard Web Hosting
Extended Web Hosting
Storage Space
200 MB
1 000 MB
Bandwidth per month
4 000 MB
12 000 MB
Subdomains
5
10
Parked domains
5
10
Addon domains
5
10
FTP accounts
5
10
Navigation and editing
Description
Web-based File Manager
A file manager similar to Windows Explorer to navigate your website's files and directories.
Web-based HTML Editor
An editor that lets you edit your web pages directly.
FrontPage extensions
A software technology that allows Microsoft FrontPage clients to communicate with web servers.
Blog applications
Description
b2evolution
A multi-blog publishing system.
Nucleus
A blog and content management system.
WordPress
A popular content management and blogging system.
Classifieds applications
Description
Noahs Classifieds
Ads directory CMS and blog software.
Content Management applications
Description
Drupal
A popular content management system.
Geeklog
A portal system that can be used as a story telling software, news system or online community.
Joomla
A dynamic portal engine and content management system.
Mambo
A feature rich content management system.
PHP-Nuke
A powerful portal solution with many modules, blocks and addons available.
phpWCMS
A robust and simple but yet powerful web based content management system.
phpWebSite
A system to develop an interactive, community-driven web site.
Post-Nuke
A flexible content management system.
Siteframe
A lightweight content-management system designed for the rapid deployment of community-based websites.
TYPO3
A small to midsize enterprise-class content management framework.
Xoops
An easy to use dynamic web content management system.
Customer Relationship applications
Description
Crafty Syntax Live Help
A live support application.
Help Center Live
A community driven live chat & support system.
osTicket
A simple and lightweight support ticket system.
PerlDesk
A feature packed browser based email management and help desk software application.
PHP Support Tickets
All-in-one email helpdesk and ticketing software.
Support Logic Helpdesk
An application that provides a structured support system.
Discussion Board applications
Description
phpBB
A popular forum and message board solution.
SMF
Full featured forums and bulletin board system.
E-Commerce applications
Description
CubeCart
A popular shopping cart system.
OS Commerce
A powerful and highly configurable eCommerce shopping cart solution.
Zen Cart
An online store management system.
FAQ applications
Description
FAQMasterFlex
An application for creating and maintaining Frequently Asked Questions (FAQs).
Hosting Billing applications
Description
AccountLab Plus
Software for interacting with Internet registrars.
phpCOIN
Package for hosting resellers to manage clients, orders, and invoices.
Image Gallery applications
Description
4Images Gallery
An image gallery management system.
Coppermine Photo Gallery
A feature-rich photo gallery application.
Gallery
A photo album organizer.
Mailing List applications
Description
PHPlist
A newsletter manager which allows you to create and email newsletters.
Poll and Survey applications
Description
Advanced Poll
A polling system with multiple polls and templates.
LimeSurvey
A surveying tool that allows you to develop, publish, and manage surveys.
phpESP
Lets non-technical users create and administer surveys.
Project Management applications
Description
dotProject
Web-based project management application with Gantt chart support.
Site Builder applications
Description
Templates Express
A series of static templates which can be installed to start building a website.
Wiki applications
Description
TikiWiki CMS/Groupware
Wiki, image galleries, file galleries, forums, polls, chat, RSS feeds, articles, submissions, weblogs, webmail, surveys, trackers, newsletters, and more.
PhpWiki
A web site system where anybody can edit the pages right through the web browser.
Other applications
Description
Dew-NewPHPLinks
A search engine, web directory, and link exchange script.
Moodle
A course management system designed to help educators create quality online courses.
Open-Realty
Professional tool for real estate agents to put their offers online.
PHPauction
An application for building an independent online auction.
phpFormGenerator
An easy, online tool for creating reliable, efficient, and aesthetically pleasing web forms.
WebCalendar
An application used to maintain a calendar for one or more persons.
Database hosting
Description
MySQL database
A relational database management system.
PostgreSQL database
An object-relational database management system.
Web-based database administration (phpMyAdmin)
A intended to handle the administration of MySQL over the World Wide Web.
Programming
Description
CGI Center
Allows you to activate and modify simple CGI scripts that can be used through your web site.
Perl 5.8.8
A high-level, general-purpose, interpreted, and dynamic programming language.
Perl modules and CPAN support
Access to the Comprehensive Perl Archive Network.
PHP 5.4
A widely used, general-purpose scripting language.
PHP5 modules and PEAR support
Access to the PHP Extension and Application Repository.
Cron jobs (task scheduling)
A time-based job scheduler.