Runbox acts as a domain reseller and registers and maintains most domains for customers through an accredited registrar.
Registrars act as agencies for the registries that operate the various top-level domains (TLDs) such as .com, .co.uk, .eu and others.
People are understandably concerned about who they give their personal details to, and prefer not to have their details passed to organizations in certain countries. Although domain privacy products exist, they only remove your details from the public whois databases, and do not prevent your details being stored with a particular registrar or registry.
Doman Registrars and Registries
Runbox uses Enom Inc, based in the US, as our main registrar for international top-level domains. Enom is GDPR compliant, which means that it adheres to the same strict privacy regulations that the EU does, when personal data is transferred from EU/EEA countries to the US.
In the case of .no domains, Runbox is a registrar in its own right and registers these directly with the registry (Norid) that is responsible for these domains.
The diagram below shows how this works.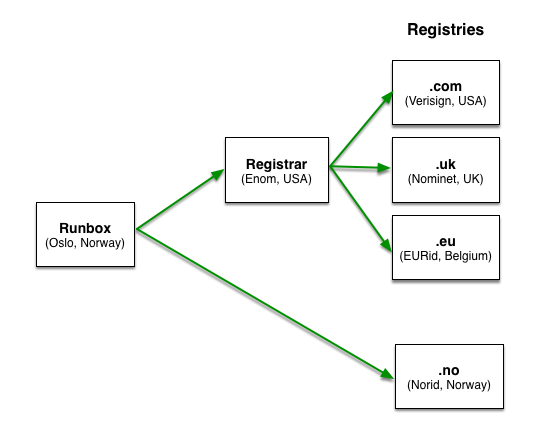 As you can see from the examples in the diagram, your personal details must be shared by Runbox with the registrar and also the registry responsible for the TLD you are registering. Each TLD only has one registry, and so it is impossible to avoid your details being registered in the country where the registry operates.
TLDs and Privacy
Runbox is often asked if we can provide a list of domains where the registrar and registry meet certain privacy conditions. With the wide range of TLDs that exists, and with registries often outsourcing services to companies in countries other than the one the TLD belongs to, it is not possible for Runbox to provide a comprehensive list.
However, we can do some basic research for you based on a domain you wish to register to find out where the registry is located. For example, we know that registrant details for .no and .eu are held within Norway and the European Union respectively by the registries for those TLDs. However, there are also restrictions on both of these domains as to who can register them.
Domain Privacy for Public Records
Registries usually make some details relating to a domain's registration public. With some domains this includes the full name, postal address, email address and telephone number of the registrant, whether they are a business or a private individual. In other cases only a name is shown, and in others only a contact email address is made available.
With some domains you can purchase domain privacy. This can replace some of the public personal data for a domain with generic data that belongs to an officially established domain privacy company.
You can find out more about Domain Privacy on our page about Additional Privacy Features.
Please contact us for further information about any particular domain you are thinking of registering.